MOSS written and directed by Daniel Peddle.
Open Q & Q Session on Friday, Oct 20th, 2017 from 11:30 AM - 1 PM in the lower VCB Lobby
Screening on Friday, Oct. 20th, 2017 at 1:10 PM inVCB 182, Q & Q with filmmaker following the film as part of 499 Senior Film
---
Simen Johan, a renowned Norwegian-Swedish contemporary artist, photographer and sculptor will be speaking at Montana State University
Thursday, Oct. 5th @ 7 PM
Cheever Hall Room 215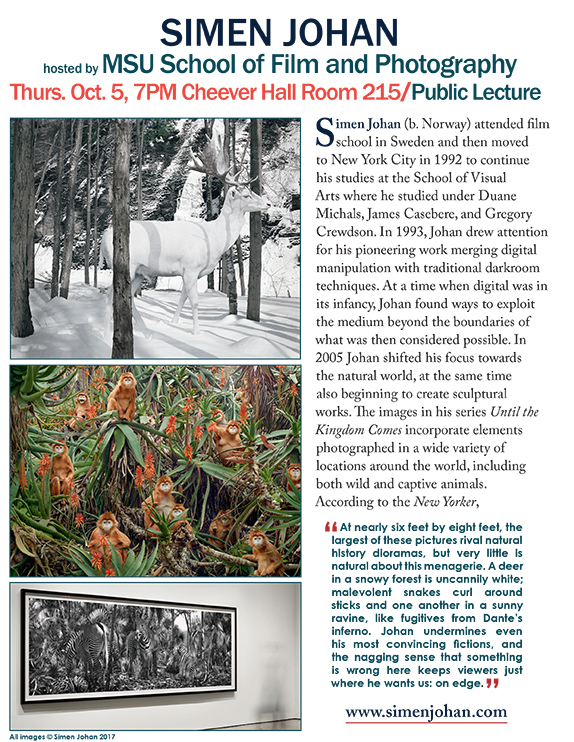 ---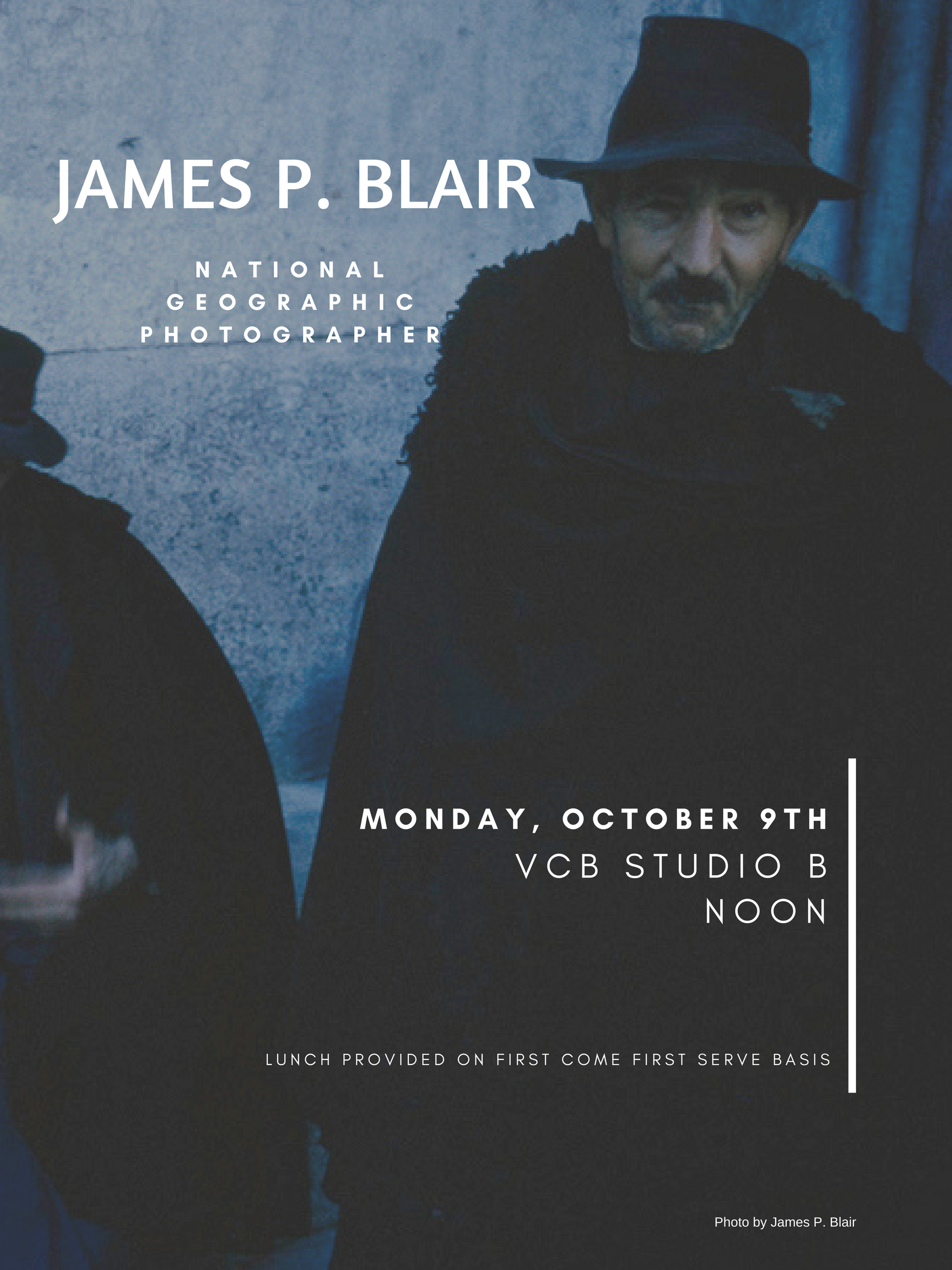 James Blair, National Geographic Photographer will be visiting with students in Studio B at noon on Monday, Oct. 9th.

Limited lunch is served on a first-come, first-serve basis.
"James Blair prepared for a photographic future by studying with Harry Callahan and Aaron Siskind for a bachelor of science degree in photography at the Institute of Design of the Illinois Institute of Technology in Chicago. Between semesters he also photographed for Roy E. Stryker (director of the Farm Security Administration Photographic Documentation of the Depression) at the Pittsburgh Photographic Library. After graduation in 1954, he spent two years as a lieutenant (j.g.) in the Navy, part of that time assisting refugees from North Vietnam in Operation Passage to Freedom. He joined WIIC-TV in Pittsburgh, Pennsylvania, in 1958 as a reporter and film photographer.
As a freelance photographer, Blair had commissions from the U.S. Information Agency, Time, Life, and National Geographic magazine. He also put together a one-man show at Carnegie Museum in Pittsburgh, and co-authored Listen With the Eye, a book of photographs and poems, with Samuel Hazo.
Success with National Geographic assignments brought him to the staff of the magazine in 1962. He has had more than 45 stories published in the magazine, including major coverages of Yugoslavia, Czechoslovakia, Poland, Ethiopia, West Africa, Iran, Russia, and Greece, and various parts of the United States, as well as articles on agriculture, coal, astronomy, and uses of photography in science. He covered southeast China for the book Journey Into China, published in 1982. He was the chief photographer for the National Geographic book on environment, As We Live and Breathe, and then continued his special interest in the environment with coverage of the disappearing rain forest, environmental pollution, and World Heritage sites." --National Geographic
---