Congratulations to alumnus Tom Frank, '75, on being awarded a lifetime achievement award from the Idaho State Broadcasters!!
As of this fall, Tom will have worked at KMVT in Twin Falls Idaho for 44 years. He is currently the Creative Services Director. A story about Tom and his award is available at this Facebook link and at KMVT Tom Frank.
---
Our 2018-2019 alumni accomplishments featured in the MSU News Service.
---
Congratulations to our alumni from the undergraduate and graduate programs who have two films at the 2019 Tribeca Film Festival! The first, in the documentary competition, is Rewind, directed by undergraduate alumnus Sasha Neulinger, and produced by Thomas Winston (MFA alumnus) and undergraduate alumnus Robert Schneeweiss. The second film, in the Spotlight narrative section, is Standing Up, Falling Down, starring Billy Crystal, produced by undergraduate alumnus Chris Mangano, and alumna Crystal Mangano as the music supervisor.
---
SFP alumna Marci Mudd, Art Director for the Oscar winning movie BlackkKlansman returns to the VCB for a screening, Q & A with the students, and meeting with students in Tom Watson and Jim Joyce's classes. Tom Watson, Vicki Miller, Marci Mudd, and Dean Adams in the picture.
---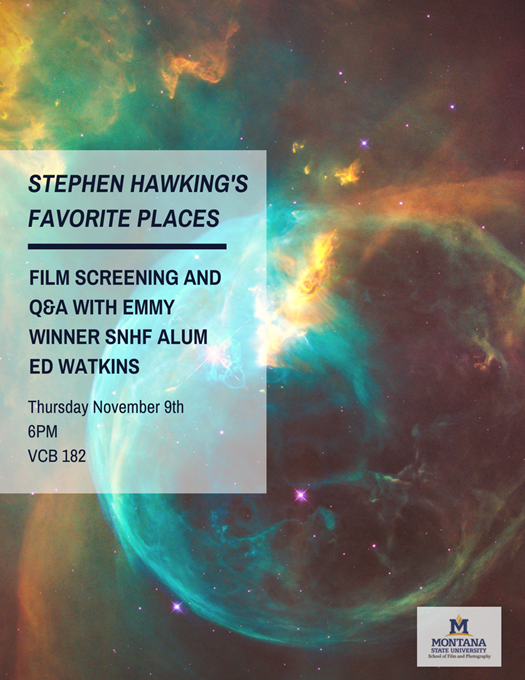 SNHF alumnus, producer, & director Ed Watkins returns to MSU to screen his production of the documentary series Stephen Hawking's Favorite Places. This series won an Emmy® for Outstanding Graphic Design and Art Direction at the National Academy of Television Arts & Sciences 38th Annual News & Documentary Emmy® Awards. Q & A with Watkins follows the screening. Thursday, Nov. 9th, 2017 at 6 PM in VCB 182.
---
SFP alumnus Kyle Eaton (class of 2002) is raking in awards for his film "Shut Up Anthony" as he makes the festival circuit. Congratulations Kyle!!
---
Congratulations to Paul Brenno, MSU Film alumnus from the class of 1997! Brenno's 2016 "MAGIC TAP CLOGGERS " (short film) has won the following awards/honors: ** BEST CINEMATOGRAPHY AWARDS ** - Semi Finalist, European Cinematography Awards, Warsaw, Poland: June 2017 - Silver Remi Houston International World-Fest May 2017 - Docs without Borders Film Fest, Nassau DE May 2017 - Chandler International Film Fest, AZ Sept 2016 - LA Shorts Awards, Nov 2016 - Depth of Field Film Fest, Nassau DE March 2017 - WRPN-TV, Film/Video Competition; DE Dec 2016 ** DOCUMENTARY SHORT ** - Semi-Finalist; LA Cine-Fest Dec 2016 - Semi-Finalist; Hollywood Screenings Film Fest Jan 2017.
---
Emmy award winning SNHF alumnus John Shier capturing snow leopards in the Himalayas for Planet Earth II!
---
Emmy Award winning filmmaker and SNHF alumna Jaime Jacobsen and MontanaPBS has been awarded $499,988 from the National Institute of Standards and Technology to produce the film, "The Last Artifact," about the international race to redefine the standard for the kilogram. She will be collaborating with several award winning MSU alumni filmmakers. Ed Watkins of Abbey Gateway Productions, will serve as the co-producer and co-director of the film; Rick Smith will be the director of photography; Parker Brown, sound; and Stefanie Watkins, also of Abbey Gateway Productions, will serve as the film's editor. Scott Sterling, senior producer at MontanaPBS, will serve as the film's colorist and online editor; and Aaron Pruitt is the associate general manager and director of content at MontanaPBS. Congratulations to all associated with this project! We look forward to screening the film.
---
Emmy Award Winning Director and SFP alumnus Scott Sterling's world premiere screening of "The Violin Alone" at the Ellen Theatre covered by KBZK News Story.
MSU alumni involved in this production includes:

-Scott Sterling, School of Film and Photography Graduate 00, - Director, Producer, Cinematographer, Editor
-Jeremiah Slovarp, Faculty, School of Music, MSU Graduate – Sound Recordist, Re-Recording Mixer, and Supervising Sound Editor
-Rick Smith, Science & Natural History Filmmaking graduate – Cinematographer
-Scott Stebbins, School of Music Technology Graduate – Sound Recordist
-Aaron Pruitt, School of Film and Photography Graduate – Executive Producer
-Luke Scheeler, School of Music Technology – Sound Editor
-Addison Maierhauser, School of Film & Photography Graduate – Assistant Editor
-Mackenzie Stone, School of Music student – Assistant Editor & Foley Editor
-S. Colleen Timmins, School of Film & Photography Graduate – Assistant Editor
---
Congratulations to MSU School of Film & Photography Assistant Teaching Professor and alumnus Karl Swingle on being awarded a Humanities Montana grant to fund his documentary, The Camp Poplar Cannon!
---
Congratulations to MFA alumni Dawson Dunning and John Shier for winning an Emmy for Outstanding Cinematography Documentary and Long Form for Wild Yellowstone - Frozen Frontier!
---
Congratulations to MFA alumni Roshan Patel for winning the best STUDENT/EMERGING Award at the 2016 Science Media Awards & Summit for his film, "Red Wolf Revival", and Abby Kent for taking a Special Jury Prize for her film, "Transistors: Teeny Tech that Changed the World", narrated by Eliza Lily Goode!
---
SPRING 2016 ANNOUNCEMENTS
MFA alumna Deia Scholsberg (2013) produced the film How I Learned to Let Go and Love the Things Climate Can't Change, which was accepted into the U.S. Documentary Competition at the Sundance Film Festival in January. Directed by Josh Fox, who is perhaps best known for the Gasland films, the production was well-received.
Also at Sundance, MFA alumnus Refah Seyed Mahmoud (2014) and current student Erik Rochner contributed to Dennis Danfung's Mobile VR work that was included in the New Frontiers section of Sundance. Refah was a co-producer and Erik was a cinematographer on the project.
SFP undergraduate alumnus Chis Mangano and Crystal Grooms Mangano (both 2005) each had films accepted into the upcoming South By Southwest Festival in Austin, Texas. Chris produced And Punching the Clown and Crystal composed the score for Aspergers Are Us. South By Southwest is one of the major independent film festivals in the world.
SFP MFA in Science and Natural History Filmmaking alumnus Daniel Schmidt (2014) and his work were featured in the recent article of BelowTheLineNews.
Unbranded, directed and photographed by SFP 2004 alum Phillip Baribeau, produced by SFP Professor Dennis Aig, Edited by MSU alum Scott Chestnut (1978), and co-photographed by MSU alum Korey Kaczmarek (2004), continues to win awards and honors. (A total of 17 filmmaker with MSU roots or affiliations worked on the film.) The film won the Audience Award and the Cinematography Award at the Waimea Ocean Film Festival in Hawaii; the Audience Award at the Lookout Festival in Chattanooga, Tennessee; and the Best of Festival Award at New York Wild. To date, the film has won 21 festival awards. The film was also included in the HotDocs 25 Most Watched Films and was trending on Netflix right after the highly publicized Making of a Murderer. The film will be released internationally theatrically and through online platforms at the end of February.
---
Congratulations to Brittany Nelson on winning the Creative Capital Grant! Brittany has a series of big solo shows coming up this year.
VOLTA Art Fair, solo exhibition with Morgan Lehman Gallery, New York, NY, March 2016
Morgan Lehman Gallery, The Year I Make Contact, solo exhibition, New York, NY, January 2016
PATRON Gallery, upcoming solo exhibition, Chicago, IL, July 2016
David Klein Gallery, Alternative Process, upcoming solo exhibition, Detroit, MI , October 2016
---
Congratulations to 2013 Photography graduate Sean Thomas Foulkes for being one of four finalists for the 2016 Aperture Portfolio Prize!!
---
Former Professor Jack Stonnell on Mark Vargo's membership in the American Society of Cinematographers.
---
DARKLIGHT, directed by MSU SFP alumnus Mike Brown of Sweetgrass Productions. Several SFP alumni worked on this film.
---
UNBRANDED, the award winning documentary feature film about four young men riding wild mustangs on a 3,000 mile border-to border Mexico-to-Canada trek to advocate for wild horse adoption and conservation, is featured in the national magazine Cowboys & Indians. Several key members of the film team taught or graduated from our School of Film and Photography. "Unbranded" was produced by Professor and School Director Dennis Aig, graduate Phill Baribeau directed and was the lead cinematographer, alumnus and former instructor Scott Chestnut edited the film, alumnus Korey Kaczmarek was co-director of cinematography, gradaute Paul Quigley was the assistant editor, recent graduate Katie Roberts was an assistant editor, and fellow alum Vanessa Naive was the Production Coordinator. Several MSU film students served as production assistants. Cindy Meehl, who directed the acclaimed film "Buck," about MSU honorary degree recipient and natural horsemanship trainer Buck Brannaman, was executive producer. Will Lake Springstead began as an intern and moved up to be a sound editor and audio specialist.
---
Alumna Kelly Matheson, Senior Attorney and Program Manager, "WITNESS" featured on PBS NewsHour.
---
Wild Lens featured the work of SNHF Alum Rob Nelson and his Science Web Series Untamed Science
---
Megan Thompson featured in the MSU Collegian.
---
Alumna Kelly Matheson featured in the New York Times Magazine!
---
Tom Berninger is a 2002 graduate of Montana State University's School of Film and Photography (then known as the Department of Media and Theatre Arts). His acclaimed documentary, Mistaken for Strangers, which documented the alternative rock band The National, opened the 2013 Tribeca Film Festival. The film was recently released on iTunes and other web outlets. Will Ferrell's online comedy site Funny or Die features a parody ofTom's film featuring Zach Galifianakis and Ted Danson. Congratulations Tom!!
---
Congratulations to MontanaPBS, SFP alumni and current students who work on 11th Str. and Grant and Indian Relay. The two shows won four Regional Emmys in the following categories:
Arts/Entertainment - Program/Special
11th & Grant with Eric Funk featuring Tumbledown House • MontanaPBS • Eric Funk, Host/Artistic Director • Scott Sterling, Director • Paul Gomez Routhier, Producer • Aaron Pruitt, Executive Producer • Jeremiah Slovarp, Audio Director
Documentary - Cultural
Indian Relay • MontanaPBS • Charles Dye, Producer • Aaron Pruitt, Executive Producer • Darren Kipp, Co-Producer • M.L. Smoker, Writer • Katie Lose Gilbertson, Editor • Andy Adkins, Editor • Jaime Jacobsen, Field Producer
Photographer - Program
Indian Relay • Daniel Schmidt • Dawson Dunning • Charles Dye • Rick Smith • Christi Cooper-Kuhn • MontanaPBS
Audio
11th & Grant with Eric Funk • Jeremiah Slovarp • MontanaPBS
---
Thank you for attending the 2014 SFP Alumni Reception. We look forward to seeing you next year!!
---
Congratulations to School of Film and Photography Master of Fine Arts alumna Deia Schlosberg! Her documentary film, Backyard, about fracking and its effects won two Emmy College Television Awards in 2014 in the categories of Documentary and Bricker Humanitarian Award.
---
Congratulations to School of Film and Photography alumni Charles Dye, Daniel Schmidt, Dawson Dunning, Rick Smith, Christi Cooper, Katie Lose Gilbertson, Andy Adkins, Jaime Jelenchick Jacobsen, Aaron Pruitt, and Scott Sterling on their regionalEmmy nominations!!
---
Congratulations to MSU Master's of Fine Arts in Science and Natural History Filmmaking graduates John Shier '05, Federico Pardo '11, and Dawson Dunning '12 for winning Emmy awards for National Geographic Channel's UNTAMED AMERICAS!
---
Director and MSU alumnus Tom Berninger, class of 2002, met with students and discussed his documentary "Mistaken for Strangers".
---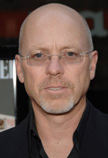 Special thanks to Montana State University film school alumnus John Dahl for participating in a special open forum and discussion with students.

A 1981 graduate of the film school and MSU, John then attended AFI and has enjoyed a long and critically acclaimed film career. Best known as one of initiators of "neo noir," John's films include Red Rock West, The Last Seduction, The Great Raid, and You Kill Me. He has also directed multi-episodes of Californication, Dexter, and other award-winning television series. John will answer questions and has offered to critique selected senior films.
---
Congratulations to MFA alumni John Shier, class 2005, Federico Pardo, class 2011, and Dawson Dunning, class 2012! They won the Outstanding Cinematography: Documentary and Long Form EMMY Award for their work on the National Geographic Channel: "Untamed Americas".
---
"Deer Father", directed by alumnus Alex Brinkman, class 2013, won the Audience Choice Award for Narrative Short at the Northwest Filmmakers Festival in Portland. Congratulations to Alex and all the SFP crew!!
---
Chris Mangano, class of 2005 and former Checkout Manager is promoted to VP of Production and Development of Permut Presentations. Congratulations Chris!!
---
Kevin Connolly in the Summer 2013 edition of the MSU Collegian.
---
Chris Mangano, class of '05, is making headlines coast to coast producing movies. STRUCK BY LIGHTNING is a hit on VOD at Time Warner Cable and Comcast. MATCH, starring Patrick Stewart, Carla Gugino and Matthew Lillard, currently in post production, is featured in the Hollywood Reporter and Deadline.
---
Finding Traction, a new film by SNHF Alumni showcases the Sport of Ultra Running and Bozeman Athlete Nikki Kimball. Finding Traction is being produced and directed by Jaime Jacobsen, '08 with Fours Five Productions, ColorBURN Productions, and MontanaPBS. The film will be broadcast on public television and entered into the film festival circuit in summer 2013.