School of Film & Photography is launching a new Bachelor of Fine Arts in Integrated Lens-Based Media program in the Fall of 2018!!
This innovative program will provide students with an intensive, interdisciplinary course of study in cinematic and photographic media that culminates in the creation of a comprehensive capstone project. As a professional degree, the BFA will prepare students to pursue graduate study and for careers as professional artists.
Dr. Andrew Nelson will be holding an information session about the program this Friday, February 2 at 5 PM in VCB 182. He will review the specifics of the program, detail the application process, and answer any questions you may have.
---
---
---
Another successful Community Portrait Day! Thank you to Alexis Pike and her wonderful photography students in Pro Practices!! Fast forward to 7:48 minute mark to see the KBZK coverage!!
---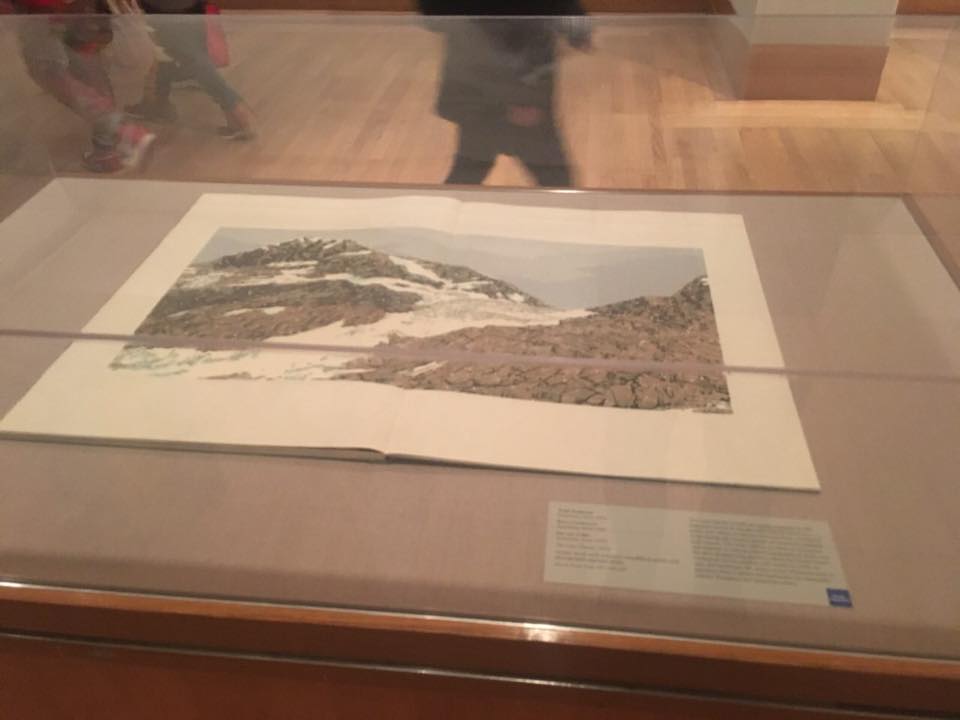 "The Last Glacier," created by Todd Anderson,
Bruce Crownover,
and Ian Van Coller (with foreword by Nancy Mahoney and binding by Rory Sparks), is now on display at the Metropolitan Museum of Art in New York City. The book was acquired by the Met in 2016, and is part of "Drawings and Prints: Selections from The Met collection," in gallery 690. The link and exhibition overview can be found below. Of note is the last sentence of the overview that describes "The Last Glacier" and similar pieces, "…
works by contemporary artists that deal with the environment, both natural and man-made, often in the face of rapidly shifting conditions."
Of special significance for these three artists is the fact that the museum is extremely selective in acquiring art created by any artist, let alone living artists. This includes "blue-chip" artists, non-academic artists, and even rarer, academic-based artists—those with a full-time college or university career. Furthermore, art acquisitions must be able to operate in context and conversation with 10,000 years of global art making and multiple curators must agree on tha
t purchase. "The Last Glacier" has been selected as worthy of inclusion in the global canon of creative works, serving as a national record that will help future generations understand who we are.
To create "The Last Glacier," the three artists traveled to the Waterton-Glacier International Peace Park in Montana and Alberta, Canada to sketch, paint and photograph the park's remaining twenty-five glaciers. This fieldwork is the basis for the creation of 13 original reductive woodblock prints and 10 photographs bound in a 25" x 38" book, in an edition of 15. The books have been sold out. Please visit
TheLastGlacier.com
for more information about the artists and their projects.


The three artists are currently creating another book, entitled "ROMO," documenting the receding glaciers in Rocky Mountain National Park. This and other work will be shown in Madison, Wis., at the James Watrous Gallery, a program of the Wisconsin Academy of Sciences, Arts, and Letters, at Overture Center for the Arts, November 2020 - January 2021.


November 21, 2017 –
February 5, 2018
The Department of Drawings and Prints boasts more than one million drawings, prints, and illustrated books made in Europe and the Americas from around 1400 to the present day. Because of their number and sensitivity to light, the works can only be exhibited for a limited period and are usually housed in on-site storage facilities. To highlight the vast range of works on paper, the department organizes four rotations a year in the Robert Wood Johnson, Jr. Gallery. Each installation is the product of a collaboration among curators and consists of up to 100 objects grouped by artist, technique, style, period, or subject.
This installation features a selection of prints illustrating the lavish festivities and ceremonies celebrated in Venice, a city that always been intimately tied to the sea; portraits of artists by Spaniards, including Francisco Goya (1746–1828) and Pablo Picasso (1881–1973), which reveal the great variety of ways these artists approached their sitters; a focused look at canceled printing plates; a group of poetic British landscape drawings and watercolors selected to elucidate a new acquisition,
Sabrina
, by Samuel Palmer (1805–1881); British and American watercolors and color woodcuts focused on dramatic skies by John Constable (1776–1837), David Cox (1783–1859), and Arthur Wesley Dow (1857–1922); drawings made by British artists who worked in India during the East India Company period (before 1874); and works by contemporary artists that deal with the environment, both natural and man-made, often in the face of rapidly shifting conditions.
---
The national release of CHARGED:THE EDUARDO GARCIA , the feature documentary from the MSU alumni and faculty who previously produced UNBRANDED, continues at a very strong pace. The film was featured on Good Morning, America, yesterday (November 21) and it is now the number 1 documentary on Amazon. Previously, the film debuted at Number one on iTunes, was Number 1 on Vudu, Number 1 on fandango Now, and has 100% Fresh Rotten tomatoes score.
---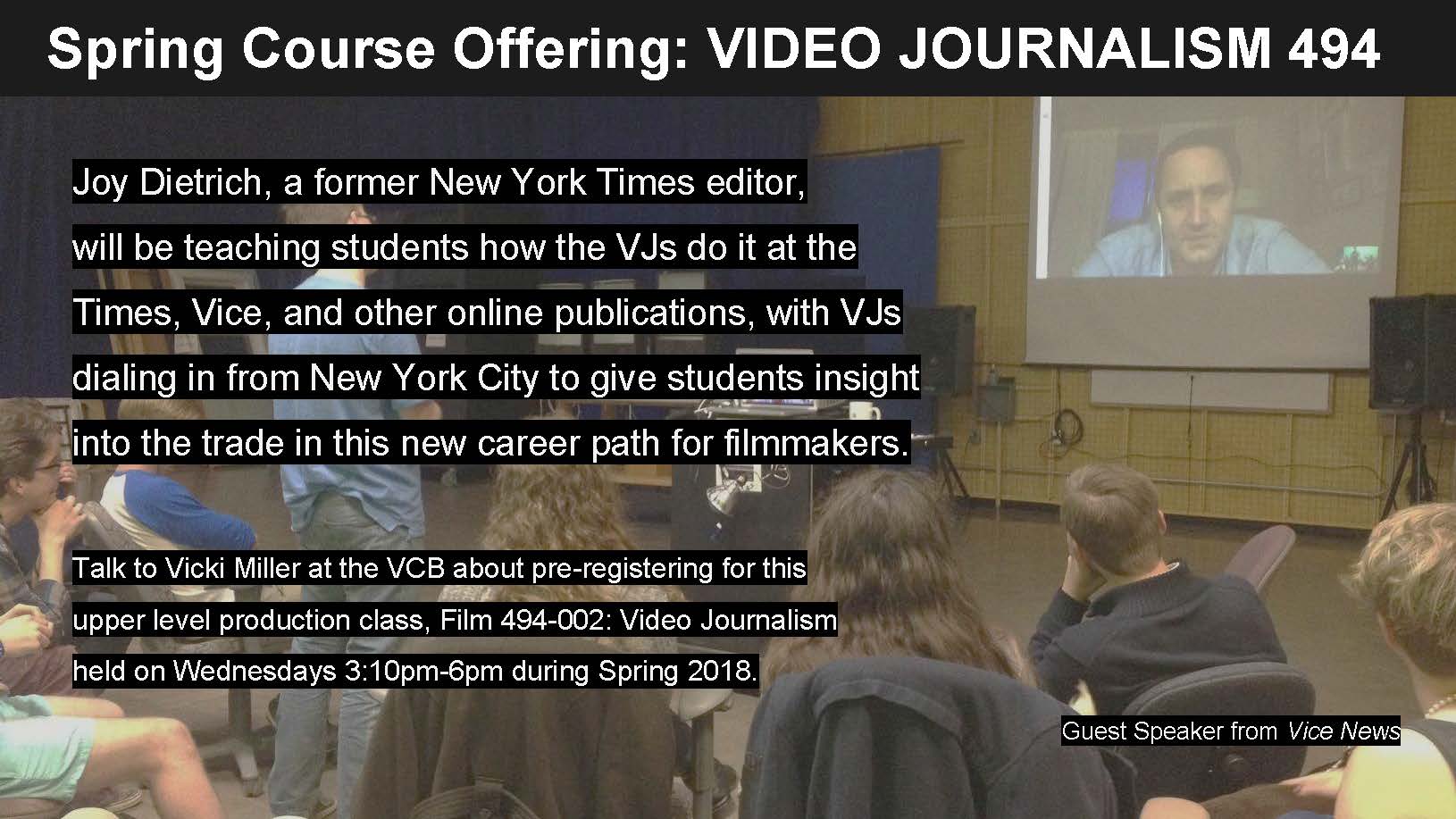 To SFP Juniors and Seniors
Due to a successful run of the inaugural course, Video Journalism (FILM 494-002) is back on the roster for Spring 2018 semester. Joy Dietrich, a former New York Times editor, will be teaching students how the VJs do it at the Times, BBC, and Vice, and other online publications, with VJs dialing in from New York City to give students insights into the trade in this new career path for filmmakers.
Talk to Vicki Miller at the VCB about pre-registering for Film 494: Video Journalism to be held on Wednesdays from 3:10pm to 6:00pm at the VCB during Spring 2018.
---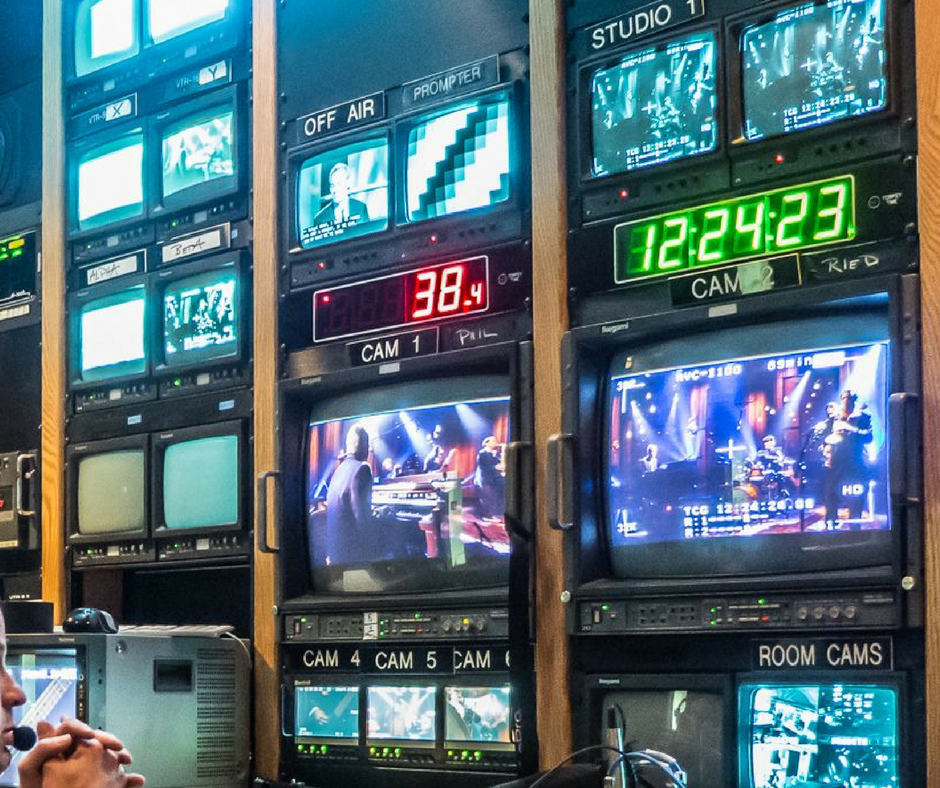 New Class this Spring 2018, Television Production FILM 253. Instructed by Paul Heitt-Rennie, Interim Director of Content & Chief Operator of MontanaPBS. Open to all MSU Students!
"The lectures are a survey of the live television production process from beginning to end. We look at production types, organizational structure, and the common tools and equipment from across the industry. A significant portion of the lectures is devoted to current audio and video technology, including the fundamentals of audio and microphones, video cameras, and video encoding / compression. Also included is workflow and industry standards in production, post-production and distribution as it applies to the television media landscape. Several guest lecturers present contemporary real-world industry perspectives.
The labs are a hands-on experience. Students work collaboratively in the KUSM studio facility on a series of guided real-time production projects. The intent is to build practical skills and a basic knowledge base with regard to all the equipment typically used in live television production. Over the course of the semester, every student is expected to work in every crew position, contributing to a final result emulating broadcast programming. Also included, as available, are a couple of field trip opportunities to real world live television production environments." -Paul Heitt-Rennie
---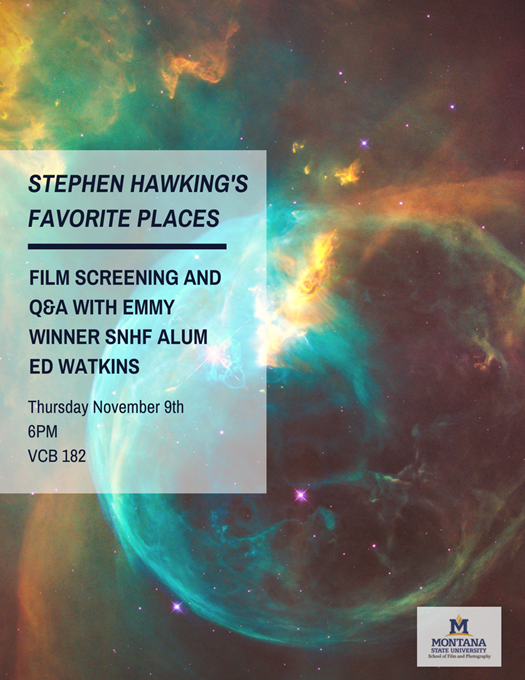 SNHF alumnus, producer, & director Ed Watkins returns to MSU to screen his production of the documentary series Stephen Hawking's Favorite Places. This series won an Emmy® for Outstanding Graphic Design and Art Direction at the National Academy of Television Arts & Sciences 38th Annual News & Documentary Emmy® Awards. Q & A with Watkins follows the screening. Thursday, Nov. 9th, 2017 at 6 PM in VCB 182.
---
NEW COURSE OFFERED SPRING 2018 - ADVANCED ACTING FOR NON-MAJORS (THTR494)
Class will meet Wednesdays, 9 AM - 11:50 AM in the Black Box Theater. Prerequisite: THTR122, FILM254, or by consent of instructor, Cara Wilder. For more information, please contact Cara at 994-5883 or cara.wilder@montana.edu.
---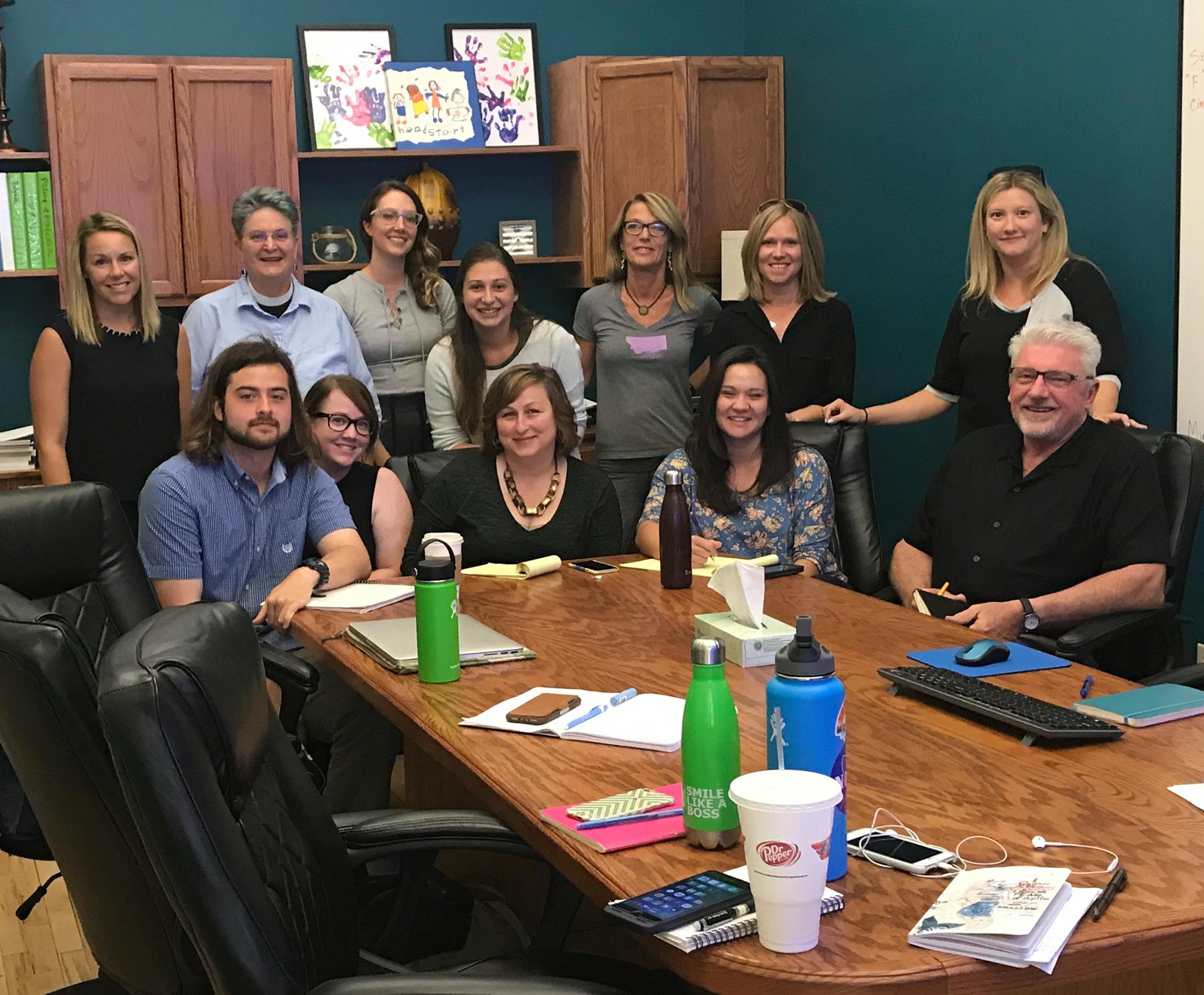 In May 2017, Architecture graduate students, Reverend Campbell-Pearson and community volunteers began the construction of a prototype tiny house for the homeless under the supervision of Professors Ralph Johnson and Bill Clinton of MSU's School of Architecture. The building process was documented by graduate students MFA film graduate students Jessica Portuondo, Evangeline Koonce and Dan Larson under the guidance of MSU Film Professor Lucia Ricciardelli. This cross-disciplinary collaboration demonstrates the potential of faculty and students to share both their professional skills and responsibility to serve outreach to our community. Portuondo, Koonce, and Ricciardelli are producing a documentary film following this HFV Project.

Clip: Building the HFV Tiny House Prototype by Jessica Portuondo (August 2017) https://vimeo.com/227982225
---
Congratulations to Christina Z. Anderson! After 19 months of labor, her "SALTED PAPER PRINTING" book is now available on Amazon and bookstores.
---
MFA students Annie White, Caitlin Bailey, and Emily Narrow interviewed onboard the NOAA ship, Okeanos Explorer.
---
Emmy Award winning filmmaker and SNHF alumna Jaime Jacobsen and MontanaPBS has been awarded $499,988 from the National Institute of Standards and Technology to produce the film, "The Last Artifact," about the international race to redefine the standard for the kilogram. She will be collaborating with several award winning MSU alumni filmmakers. Ed Watkins of Abbey Gateway Productions, will serve as the co-producer and co-director of the film; Rick Smith will be the director of photography; Parker Brown, sound; and Stefanie Watkins, also of Abbey Gateway Productions, will serve as the film's editor. Scott Sterling, senior producer at MontanaPBS, will serve as the film's colorist and online editor; and Aaron Pruitt is the associate general manager and director of content at MontanaPBS. Congratulations to all associated with this project! We look forward to screening the film.
---
Tippet Rise's recently launched YouTube channel! Kathy Kasic directed, shot films, and supervised student interns. Much of the concert performance footage was taken by our SNHF grad students interns Billy Collins, Katie Mullen, and two audio interns - one from the MSU School of Music - Jake Pickett.
---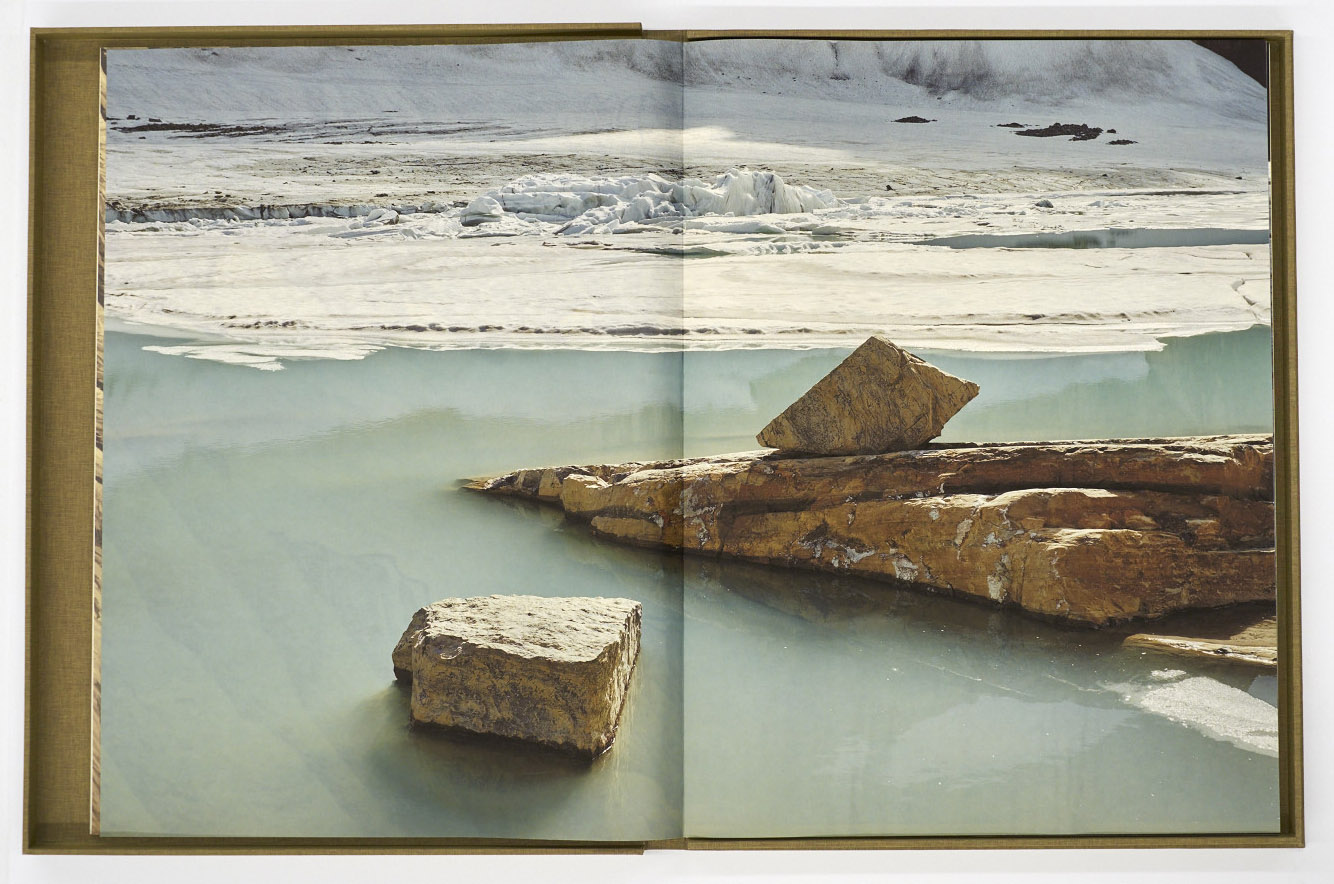 The limited edition art book, The Last Glacier (2015), by Ian van Coller, Todd Anderson (Clemson University) and Bruce Crownover (Tandem Press), has been acquired by the Metropolitan Museum of Art, the Library of Congress, the New York Public Library, UW-Madison Special Collections, Clemson University in South Carolina, the Jordan Schnitzer Family Foundation, and by other private collectors. The book is an edition of 15 and contains 23 woodcuts and photographs of the receding glaciers in Glacier National Park, MT.

---
Milestones in 2015/2016
1. Film Option Alumnus Jason McGatlin (2010) has continued to add to his long list of feature film credits as the executive producer of Star Wars: Episode VII - The Force Awakens. It is the highest grossing film in Walt Disney Studios history, the third highest grossing film of all time, and it is still in release. McGatlin currently is the Senior Vice President of Physical Production for Lucasfilm overseeing all Star Wars films including Rogue One set for release Dec. 16, 2016 and Star Wars: Episode VIII, scheduled for release on December 15, 2017.
2. Photo Option alumnus Sean Thomas Foulkes (2013) is one of 4 finalists for the 2016 Aperture Portfolio Prize, which is a major photography award. More information about this accomplishment may be found at http://aperture.org/portfolio-prize.
3. Photo Option alumna Brittany Nelson (2007) won a Creative Capital Grant last year and has a series of major solo shows coming up this year.
VOLTA Art Fair, solo exhibition with Morgan Lehman Gallery, New York, NY, March 2016
Morgan Lehman Gallery, The Year I Make Contact, solo exhibition, New York, NY, January 2016
PATRON Gallery, upcoming solo exhibition, Chicago, IL, July 2016
David Klein Gallery, Alternative Process, upcoming solo exhibition, Detroit, MI , October 2016
4. Film Option alumnus John W. MacDonald (2006) was the cinematographer for Susan Glatzer's feature Alive and Kicking, which will be screened at the 2016 South by Southwest Film Festival. This is the third feature film in this year's SXSW with a major role played SFP alumni
5. Film Option alumnus Jason Burlage (1995) premiered his nonfiction feature The Middle Kingdom in the feature documentary competition at the 2016 Big Sky Documentary Film Festival. Jason also continues to head Devolution Films, which presents the Bozeman Doc series at the Emerson Cultural Center in Bozeman.
6. Film Option alumna Aria Stewart (2006) recently accepted a position with Lululemon Athletica, as the Operations Manager for their Photo/Video team in Vancouver, BC.
7. MFA in Science and Natural History Filmmaking alumnus (2007) Kathryn Kasic's documentary film Loose Horses, will be screened at the Ethnografilm Festival in Paris as well as at Le Laboratoire, an "artscience" lab, also in Paris. Kathy also continues to serve as a Teaching Professor in the SFP and as Founding Director of the MSU Center for the Communication of Science (CCS).
8. SFP Professor Ian van Coller has achieved multiple milestones for his photography work . His collaborative artist book The Last Glacier was acquired by both the famed modernist painter Sam Gillian and the Jordan Schnitzer Family Foundation (http://www.jordanschnitzer.org/collection). The Foundation also acquired individual prints of the 23 image plates in the book. The University of Wisconsin Special Collections Memorial Library also acquired copies of the book. Another of Professor van Coller's books, Fissure, Dreaming of the Dark Continent and Mali Monuments, was acquired by The Getty Collection, Los Angeles, California. Professor van Coller's work will also be featured in several exhibitions in 2016. He is part of a three-person exhibition titled Cycle, at the Cultural Institute of Integrated Studies (CIIS) in San Francisco which will run through April 1. From March 4 through May 8th he is in an exhibition called The Wake at the Houston Center for Photography during what is probably the largest biennial photography festival in the world. (Learn more at https://www.hcponline.org/exhibits/exhibitions/view/106/in-the-wake.) Finally, Professor van Coller will be exhibiting with collaborators Todd Anderson and Bruce Crownover in the three-person exhibition The Last Glacier at Passages Bookshop in Portland ,Oregon, in April. (Find out more at http://www.passagesbookshop.com.)
9. SFP Professor Lucia Ricciardelli received a seed grants from the MSU Outreach and Engagement Council . The grants promote outreach and engagement activities involving faculty, students and staff in collaboration with local and regional partners. Professor Ricciardelli and Professor Christine Stanton of the Department of Education are collaborating with Blackfeet Community College (BCC) on "Piikani Digital Storywork," a project that collects digital stories from the Blackfeet tribal community. Through the project, students and faculty at BCC and at Blackfeet Academy high school will learn filmmaking techniques from MSU students and faculty, who, in turn, are engaged in culturally responsive, community-centered filmmaking and education. Professor Ricciardelli and Professor Stanton joined with Cinda Burd to do a pecha kucha-style presentation about their work at the Celebrating Research and Creative Activities Serving Indigenous Communities event presented by the MSU Vice President for Research and Economic Development Dr. Renee Reijo Pera.
10. SFP Teaching Professor James Joyce, in collaboration with School of Engineering faculty member Bill Schell, received an Instructional Innovation Grant from the MSU Center for Faculty Excellence for a "flipped-classroom approach project entitled Digital Reading Guides.
11. SFP Professor Chris Anderson has been invited to speak at the 2016 Montana American Chemical Society (ACS) section meeting in April. She will speak to a forum of chemistry students and professionals about the application of chemistry to photography.
12. SFP Professor Andrew Nelson's book, Still in the Saddle: The Hollywood Western, 1969-1980, was a "top pick" in the February edition of California Bookwatch. It was also recently reviewed by Prof. Bruce Austin of RIT on his blog, where he wrote that it "tackles a narrow but significant slice of motion picture content and history with an intelligence, understandability and comprehensiveness few film books are able."
13. Unbranded, directed and photographed by SFP 2004 alumnus Phillip Baribeau, produced by SFP Professor Dennis Aig, edited by MSU alumnus Scott Chestnut (1978), and co-photographed by MSU alum Korey Kaczmarek (2004), continues to win awards and honors. (A total of 17 filmmakers with MSU roots or affiliations worked on the film.) The film was selected as the Best Environmental Film at The Vancouver International Film Festival, and was chosen as TheBest Western of 2015 by the Western Heritage Foundation. The film was also released theatrically in Europe this month.
14. Finally, but by no means leastly, Breanna Karasko, the daughter of SFP Student Advisor Vicki Miller, earned the title of Chili Queen by taking first place at the Broken Arrow Chili Cook Off in Manhattan, Montana. OF the 33 entries, her Chicken Green Chili Verde received 122 votes.
---
Spring 2016 Announcements
MFA in Science and Natural History Fimmaking alumna Deia Scholsberg (2013) produced the film How I Learned to Let Go and Love the Things Climate Can't Change, which was accepted into the U.S. Documentary Competition at the Sundance Film Festival in January. Directed by Josh Fox, who is perhaps best known for the Gasland films, the production was well-received.
MFA alum Refah Seyed Mahmoud (2014) and current student Erik Rochner contributed to Dennis Danfung's Mobile VR work that was included in the New Frontiers section of Sundance. Refah was a co-producer and Erik was a cinematographer on the project.
Associate Professor Alexis Pike was one of only 47 photographer from throughout the world nominated for the prestigious Baum Award. The Baum singles out "emerging" American photographers for support and is one of the largest national awards among the grants and fellowships available in photography. The recipient will be announced later this year. Professor Pike also had twenty-two images from her "Color Me Lucky" series, which was supported in part by an MSU Scholarship & Creativity Grant, featured on Wired.com in November. The article highlighted a portion of the project completed at Butte's Evel Knievel Days in 2014/2015 and included an interview with Professor Pike regarding the project.
SFP Assistant Teaching Professor Jonathan Long's work was included in the photographic exhibit, "Upper Snake River Basin," that is currently showing at the Center for the Arts in Jackson, Wyoming. The work was also shown last summer at The Art Museum of Eastern Idaho.
SFP Undergraduate alumni Chis Mangano and Crystal Grooms Mangano (both 2005) each had films accepted into the upcoming South By Southwest Festival in Austin, Texas. Chris produced And Punching the Clown and Crystal composed the score for Aspergers Are Us. South By Southwest is one of the major independent film festivals in the world.
SFP MFA in Science and Natural History Filmmaking alum Daniel Schmidt (2014) and his work were featured in the recent article in BLTNEWS.