Faculty & Staff Spotlight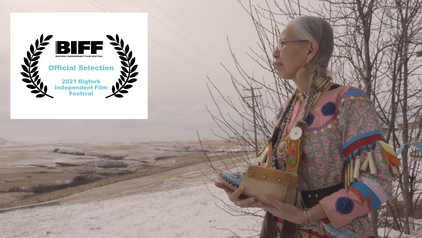 Congratulations to Lucia Riciardelli as her film Portrait of a Pawnee-Cree Moccasin Maker: John Murie's Artistic Wisdom was selected by the Bigfork Independent Film Festival!
Portrait of a Pawnee-Cree Moccasin Maker is a participatory and collaborative documentary film about Native American artist John Murie, who is making a name for himself as a uniquely talented contemporary moccasin maker. Besides being hugely popular for their quality and exquisite designs, John's handmade beaded moccasins are also a vehicle to better understand, appreciate, respect, and recognize Native American culture, helping to preserve and enhance access to Indigenous heritage.
The trailer forPortrait of a Pawnee-Cree Moccasin Makercan be viewed through BIFF's website.
---
Congratulations to the winning films at the 2021 BZN International Film Festival!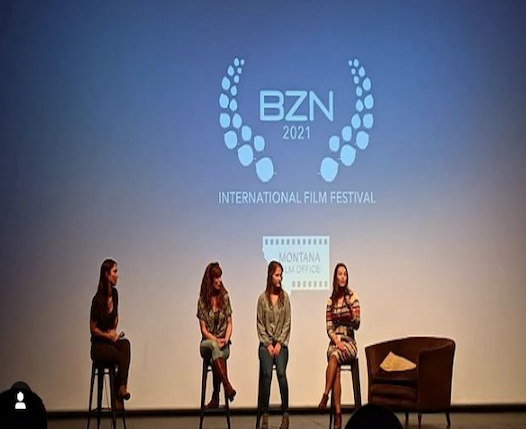 Rubber & Glue

by Cat Dale

Youth v Gov

Mating for Life

by Cindy Stillwell

The Scottish Play by Tom Watson
---
Jackson Wild 2021 Special Recognition Awards
Youth v Gov,produced and directed by MFA alum Christi Cooper and involved 12 alums from both the undergrad and graduate programs, was cited for its Impact Campaign.
In the Grand Prismatic Category the MFA has two alumni honorees: Professor Colleen Thurston of the University of Arkansas and Roshan Patel,media producer for Smithsonian's National Zoo and Conservation Biology Institute.
Elephant Queen,also received Impact Campaign honors, which John Heminway provided behind-the-scenes support on.
Congratulations to all of the filmmakers recognized for their hard work!
---
Congratulations to Jeanette Goodwin on her nomination for August's The Corgi Award. We're incredibly grateful for Jeanette's kindness and dedication to the SFP Community.
---
Congratulations to Jeanette & Sassy Goodwin on their retirement. We're so grateful for their guiding influence on the SFP community over the past years. We're wishing you a relaxing retirement!
---
Our very own Alexis Hagestad, Checkout Photography Manager, has herphotographsfeatured in the New Yorker magazine (October 2020). Congratulations Alexis!!
---
Lucia Ricciardelli's PORTRAIT OF A PAWNEE-CREE MOCCASIN MAKER: JOHN MURIE's ARTISTIC WISDOM, screened on July 23, 2020 at BozemanArts-Live. Sponsored by the Bozeman Film Celebration the screening included a conversation with Lucia and artist John Murie.
---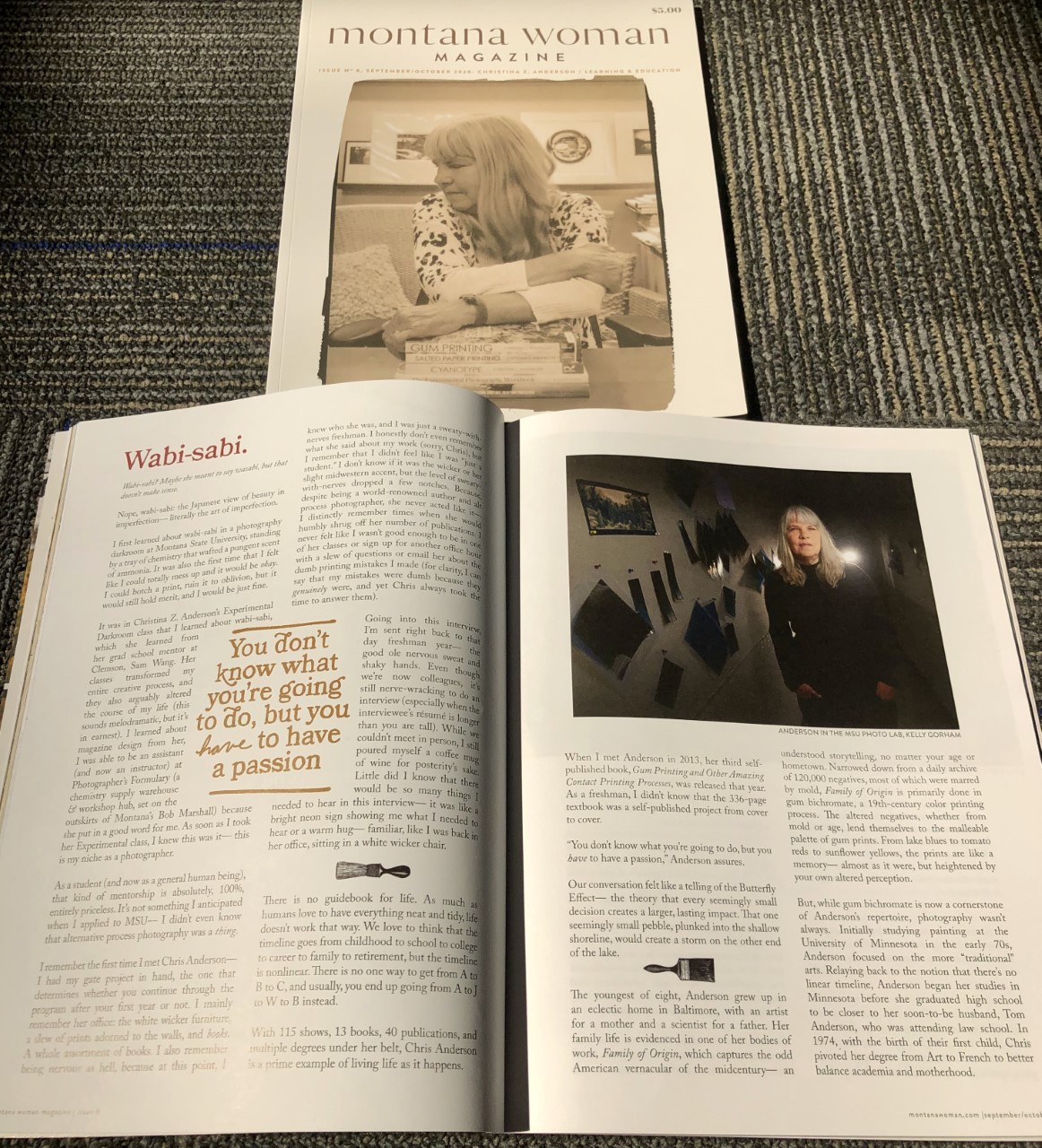 Montana Woman magazine, owned and edited by photography alumna Megan Crawford, features our photography faculty Christina Z. Anderson on the cover. Inside is a wonderful article entitled "Wabi-sabi" about Chris and her journey with experimental photography. Montana Woman issue 8 is available online.
---
Tenzin Phuntsog's short film The Day the Sun Died featuring Henry Realbird from the Crow is having its virtual east coast premiere at the BlackStar 2020, August 24. Watch the trailer for The Day the Sun Died.

Filmed over the summer of the 2017 total solar eclipse. On this occasion, Henry Realbird, an Elder (Apsáalooke) and Cowboy Poet in a stream of consciousness speaks to the importance of dreams and visions. Funded bythe Montana Film Office. Shot on 16mm Film in Crow Country, Montana.